Saskatchewan Canada Goose Hunts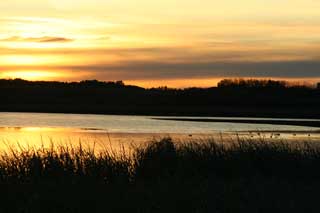 Our Saskatchewan, Canada operation is truly a Waterfowler's Dream. We offer all-inclusive waterfowl hunts in West Central Saskatchewan where millions of ducks and geese congregate before the long trip south down the Central Flyway. We offer Saskatchewan hunting packages to accommodate all hunters and want everyone to enjoy our magnificent lodge. The Goose and Duck Hunting can only be explained as the best there is. We hunt ducks and geese in the many agricultural fields in the area. Duck and Goose Hunting in Canada is something every serious waterfowl hunter must partake in at least once in his life.
Our lodge sits next to an historic roost which acts as a stopover point for millions of migrating waterfowl throughout the Fall and Spring.  We hunt from September- November in the Fall and April/March for the Spring Snow Goose season.  The Waterfowl hunting is some of the best in the world and it's not uncommon to have thousands of ducks and geese decoy at one time. It truly is one of the most amazing destinations for a waterfowl hunters.
Our hunts take place in five wildlife zones which consist of over 10,000 square miles of agricultural fields and water bodies that dot the landscape. At Backwater, we use the best equipment in the industry hunting out of comfortable layout blinds and over an expansive spread of full body decoys.
Saskatchewan Hunting Packages
A 3 day package would consist of 3 morning hunts and 2 afternoon hunts. We plan our packages to accommodate you. Our normal routine is to setup for Geese in the morning and hunt Ducks in the afternoon. This is solely up to you. You may decide that you want to concentrate on Snow Geese or Ducks. We pride ourselves in being able to accommodate your party. It is not uncommon to shoot a limit of Dark Geese and Ducks in the morning and then chase Snow Geese or Cranes in the afternoon. We also have a healthy population of Grouse and Partridge in the area, and your more than welcome to chase them in the afternoon.  We can accommodate up to a group of 12 hunters in our lodge and can custom tailor each package to the groups liking.  Our guides and staff put in the extra effort and have the experience required to provide a truly unbelievable hunting experience.